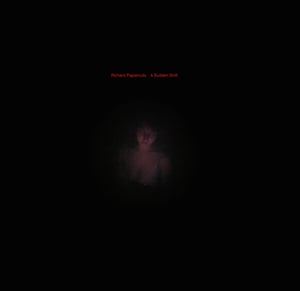 $

12.00
Pena Records is pleased to announce its premier LP release and the first solo LP by Richard Papiercuts: A Sudden Shift.
Richard Papiercuts' CV includes somber musique concrete and noise experiments for Azul Discografica, collaborations with Mattin (including 2011's Exquisite Corpse LP), action-drumming for a certain NY-based Slavic psych-noise trio, and as LF Restaurant, 14 years as singer / songwriter / guitarist in The Chinese Restaurants. With that slippery outfit, Papiercuts crafted two ignoble classics of 2010 in the EPs "River of Shit" and "Summer Romance," celebrated art-punk slabs that turned heads at WFMU, The Wire, and Maximum Rock 'N' Roll alike.
As the blogosphere might put it, "fidelity-wise this is a major step up" from those Chinese Restaurants singles. A Sudden Shift took over a year to record, during stolen late night hours at a secret 24-track analog studio, deep inside a Harlem warehouse on the verge of demolition, with Richard overdubbing most of the tracks himself. How'd it turn out? A dense, throbbing art-rock/postpunk/singer-songwriter record, riddled with secrets, brimming with hooks -- a bleak 'n' anguished New York song cycle shot through with oblique humor.
Richard sang like a beast, and arranged, played guitars, drums, keys, etc. Avant-reedsman Ed Bear (Twistycat) played tenor sax; Rabbi Martha Mozszinsky played cello; Criss Criss lent his molten, double-dong leads to one key track. Malcolm Tent (Ultrabunny), Pascal Ludet (Pop. 1280), and LF himself pumped the Chinese rock in a shit-hot version of the Restaurants' protest song for all seasons, "River of Shit." Andrew Dreyer engineered the album, Cale/Ra inheritor Matt Mottel (Platinum Vision, CSC Funk) played piano and synth, and Bil Bowen (DJ/Rupture and Nettle) baked it 'til it was done. The recordings are "upper-mid-fi" and crystal-clear.
A Sudden Shift is an ophthalmology of rock history that connects the febrile dots between postplunk, legitimate UK pop, and the 20th Century "serious music" canon. References so obvious, yet so out of place, they make you doubt yourself: Robert Plant (solo), Cold Sun (twice), outsider folk garbage, Current 93, Tilt, The Velvets, Howlin' Wolf, the Coltrane Quartet, Songs From the Big Chair, Comus, The Idiot, Sand, and, as ever, Joy Division. Influences? No: References. Intertexts. But even at its most "conceptual," A Sudden Shift is an insistently tuneful, emotionally loaded song-cycle, deliberate and precise in its diction even if Dick's agenda isn't easy to figure.
Clean and fucked up. Sweet and sour. A Sudden Shift sounds like no other record in recent memory.
Listen here.
Questions and wholesale, get in touch at: [email protected]